Clear Braces
Smile Through Your Treatment
Dr. Herzberg is an expert provider of clear braces in New Rochelle, NY. Clear braces are a popular choice for teens and adults who want to make a less noticeable statement with their commitment to a healthier smile. They are also ideal for people who speak in front of crowds or spend a lot of time in front of a camera. In addition, if you are not a good candidate for clear aligners but are still looking for discreet treatment, clear braces may be a good solution for you.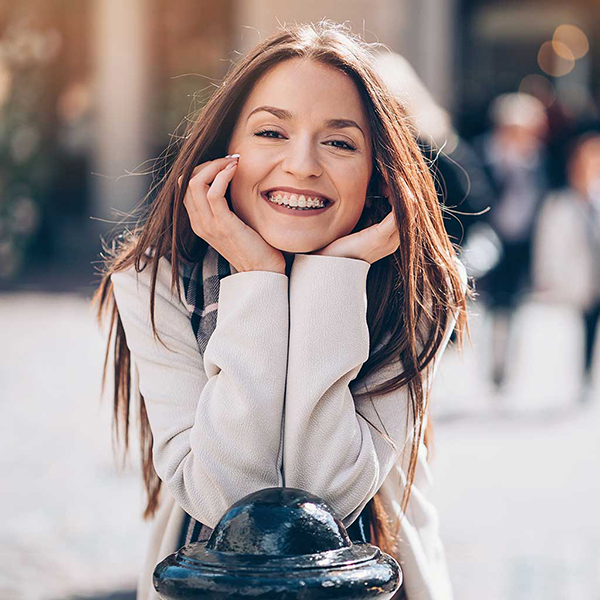 A Clear Choice to Metal
Clear braces offer our patients the look they want, with all of the functionality of traditional metal braces. Their comfortable, sculptured design and attractive translucent appearance help provide the self-confidence that comes from wearing braces that look as good as they perform.
You'll be struck by the natural look of these smooth, sculptured, and completely clear braces, which will not stain or discolor, and can be blended in with your unique tooth shade. With clear braces, you can smile all through treatment!
More Benefits From Better Technology
Originally, clear braces were known for their initial benefit of being nearly invisible. However, over time, the brackets and bands would become stained and unsightly. Today, we have made advances with clear appliance technology. With clear, non-porous bands, you no longer have to worry about the longevity of your discreet solution. We believe every individual has the right to live their life with a smile they truly love. With clear braces, you can achieve it without anyone noticing your treatment.
LightForce Braces - Unlike traditional brackets that are mass-produced to fit everyone, LightForce allows Dr. Herzberg to create brackets that perfectly fit your tooth's unique surface using a 3D printing technology. Because they conform precisely to your teeth, this often helps to reduce discomfort and improve the straightening accuracy.
Damon® Clear Braces - Damon Clear braces are virtually invisible, resistant to staining, and do not use elastic ties, providing a superior aesthetic solution for patients. Depending on your situation, Damon braces may be the perfect fit for your orthodontic needs.
Empower® Clear Braces - Empower is the most complete self ligating bracket system in the world and designed with your comfort in mind. Dr. Herzberg will work closely with you to determine which system best fits your particular needs, budget, and lifestyle.
Learn More About Clear Braces in New Rochelle, NY, Today
To benefit from Dr. Herzberg's expertise, schedule your Complimentary New Patient Consultation today by calling (914) 632-2955. You may also use our convenient online form.
Your appointment includes the following:
Discuss Your Goals
Thorough Exam
iTero Optical Scanner & Photographs
Custom Treatment Plan
Finalize Finances & Start Improving Your Smile
During your appointment, we will take the time to answer all your questions about our advanced treatments and technology, our flexible payment options, and anything else you may want to know about us!